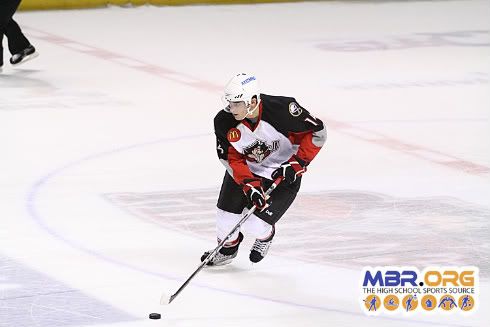 Corey Tropp before his shootout tying goal earlier this season. (Photo Jeff Schools)
Corey Tropp didn't leave the chad hanging, putting home a shootout goal to give the Pirates a 4-3 win in Charlotte against the Checkers.
Tropp netted an equalizer in the late rounds at the Civic Center in mid October, this time, he got the game winner for the Pirates completing the win.
Luke Adam, fresh of being named AHL Player of the Month, opened the scoring for the Pirates just 2 minutes in for the 1 - 0 lead. The Checkers evened things up just 4 m,inutes later, and the period ended with the score tied at 1.
The Checkers took the lead early in the 2nd as Nick Dodge put one past Pirates goalie David Leggio for the 2 - 1 advantage.
Mark Parrish tied the score at 2 just 5 minutes later, putting one past Checkers goalie Mike Murphy.
Derek Whitmore lit the lamp next for the Pirates with less then 1 minute to go in the 2nd, to put the Pirates on top 3 - 2.
The Pirates seemed to hold the Checkers off, but entirely to often this season, they have had trouble closing out the last minute. Tuesday night would be no different, with Murphy off for the extra attacker, and the Pirates Alex Biega off for holding, Chris Terry put one past Leggio with one second left on the clock, setting overtime.
The two teams totaled only 5 shots on goal in the extra frame, before Tropp sent the Pirates away with a 4 - 3 win in the shootout.
Jeff Schools