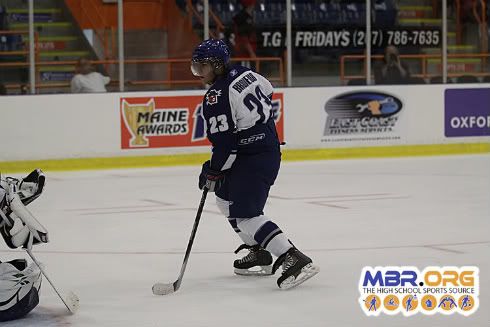 ETIENNE BRODEUR WITH ANOTHER GREAT WEEK (PHOTO JEFF SCHOOLS)
Pine Tree Pucks Player of the Week
- Etienne Brodeur Lewiston MAINEiacs - Etienne continues to blaze, scoring 3 more goals last week to still lead the CHL in scoring with 21 goals. he leads all QMJHL scorers by five goals and leads the entire CHL by 1. Brodeur has been a big factor in the MAINEiacs continued roll through the QMJHL.
Brodeur had 2 goals and 1 assist in the MAINEiacs 5-0 win over Baie-Comeau on Saturday and had goal in Sunday's matchup with a +/- of plus 2. Brodeur finished the week with a +/- rating of +5.
2nd Star
- Joey Diamond Maine Black Bears - Joey Diamond took home Hockey East POTW honor on Monday with his weekend against Northeastern. Diamond finished with 2 goals and an assist in the weekend series.
3rd Star
- Spencer Abbott Maine Black Bears - Spencer Abbott continues his great season, putting numbers up in every series. This weekend against the Northeastern Huskies, Abbott finished 2 goals and an assist.